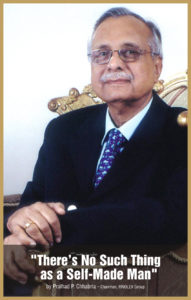 This is the true story of Pralhad P. Chhabria, a young Indian boy who had nothing – no money, no contacts, not even any education – and began a small business which grew to become one of India's largest cable and pipe companies, Finolex.
P. P. Chhabria was born in 1930 to a wealthy family. But his father died when he was only 12 and he was sent to work as a cleaning boy in a small cloth shop in Karachi for a monthly wage of Rs. 10. He lived briefly in Amritsar and moved to Poona in 1945.
Working his way through stints as a domestic servant, a collection agent, a trader in electrical accessories, and a supplier of defence contracts, he flourished with the unrelenting instinct of the entrepreneur. He established Finolex in 1958 along with his younger brother Kishan or K.P. Chhabria. The company is now the number one manufacturer of cables in India, and second only to Reliance in the manufacture of PVC resin.
Click There's No Such Thing as a Self-Made Man for more information about this book and the fascinating story of PP Chhabria, the founder of Finolex. And if you want to buy the ebook, it's available here.