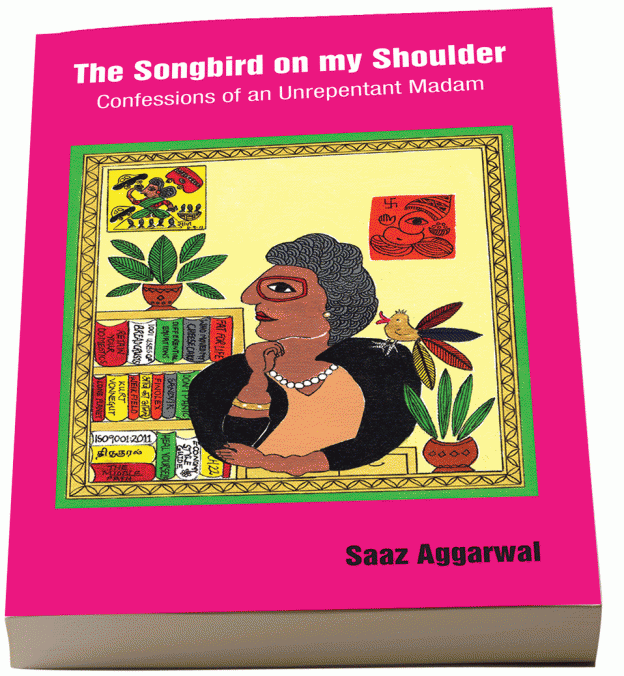 The Songbird on my Shoulder is a collection of short spurts of thought, many of which have been in print before in mainstream Indian publications. What you get is a funny, thought-provoking, and sometimes poignant worldview of a Madam who lives in Pune, India – the Oxford of the East, the Home of the Shrewsbury Biscuit, and the road-accident fatality-and-brain-damage capital of the world.
This unorthodox mid-life memoir has a particularly revealing section towards the end in the simulated voices of characters such as Bridget Jones, Bill Bryson, Dave Barry, and one Batty Watsa whom you might recognize from somewhere.
The Songbird on my Shoulder has blurbs from some remarkably important people – in a transparent attempt to prove to readers and critics that it aims to fall into the 'takin-the-piss' genre rather than the more prevalent 'wannabe' one.
Saaz Aggarwal is a biographer, book critic, and humour columnist. With a Masters in Mathematics from Bombay University, Saaz Aggarwal taught early in her career at DG Ruparel College, Mumbai, and subsequently worked as HR head of Seacom, a retail software company in Pune. Saaz Aggarwal is also known for her Bombay Clichés — quirky paintings of contemporary urban India done in a traditional Indian folk style.